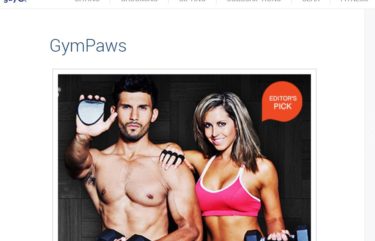 AskMen Magazine recently chose GymPaws Original Leather Weightlifting Grips as Editor's Pick for 2019 Best Workout Gloves! They are t ...
GymPaws The Gym Glove Alternative
The best workout gloves 2015 just might be "The Swolemate" or "The V02 Max" half finger gym gloves by GymPaws®. Made from 100% Top Grain Cowhide leather these gym gloves are unlike any hand protection you've tried. Women's Gym Gloves and Men's Gym Gloves sizes available in multiple colors and sizes. We only use the best quality materials for all our weight lifting gloves and straps. The natural vegetable oil tanning process used for our leather not only leaves it soft and supple, but moisture resistant as well. The original leather lifting grips by GymPaw® also make the idea fitness gift idea.
GymPaws Fitness Videos on YouTube
Best Workout Gloves 2018 GymPaws
Your workout is only as good as the effort you put into it.  More time at the gym should equal better results.  If only exercise and fitness were that easy. You can buy the best workout gloves or shoes or exercise clothes that money can buy, but does that mean that you will reach your fitness goals any faster?  Probably not.  You can however make sure that you are not wasting time and money buying workout gear online by looking at the customer reviews carefully. 
#1 Top Workout Gloves 2018
There are literally thousands of options when it comes to hand protection for weightlifting, Crossfit, or bodybuilding. Choosing the best glove is not always as easy at it may seem. The type of exercise you do while wearing them really determines if you are going to like them or not and if the gloves will work for you. Here are some things to look for if you want to buy the Best Workout Gloves online:
1. When it comes to the big shopping sites like Amazon or eBay of course you want to look at customer reviews. Do not just pay attention to the rating, look at what customer actually have to say.  Do they mention weightlifting or Crossfit or what type of workout they use the gloves for?
2. Material matters if you really want the best workout gloves that will be durable. Your gym shoes are probably made of leather, your gloves should be as well. 
3. Exercise and fitness gear that is multi-functional is a huge plus.  For example if you are doing a HIIT (high intensity interval training) workout like Crossfit, you are moving quickly from one exercise to the next.  The best workout glove for you will be one that you do not have to keep taking on and off. 
GymPaws have been rated the Best Workout Gloves 2018 by thousands of customers all over the world. Whether you go to the gym to do biceps curls, chest press, pull ups or a combination of all of them, you will appreciate that GymPaws do not get in the way and best of all they do not make your hands sweaty. 
Cheaper is not always better.  Everyone knows what a cheap pair of gym shoes feel like.  You want to take them off as soon as you leave the gym, if you even wear them there in the first place.