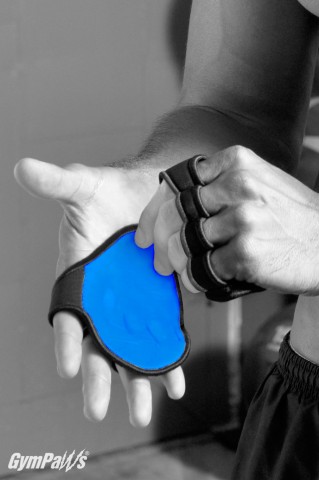 There are a 1,000 different Weight Lifting Grips you can choose from, and maybe you've tried them all.  GymPaws® Weight Lifting Grips just might be the last weight lifting grips you'll ever buy!
Why Are GymPaws® Weight Lifting Grips Better?
First of all, they're the only ones that are made from Genuine Leather!  We all know Leather is better! Your gym shoes are the most used piece of workout gear you own and they're made of Leather for a reason.  It's the most durable material for fitness products!  Not only are GymPaws® Weight Lifting Grips going to be the most durable grip you'll own, but the natural leather will start to conform to your hand the minute you start wearing them.
GymPaws® Lifting Grips have another secret weapon.  The Neoprene Backing is the same material used for Scuba Diving gear.  Neoprene doesn't absorb water or moisture, it wicks it away.  That means you won't have to worry about sweaty palms or a slippery grip when you're in the middle of your power lift!  Not to mention that Four Finger Loops make sure that GymPaws® stay right where you need them… in the Palm of your hands!
What Can I Use GymPaws® Weight Lifting Grips For?
GymPaws® were designed to be versatile.  Your workout changes every time you hit the gym and you should have a workout glove or weight lifting grip that can do the job regardless of your workout.   Lots of customers love them as CrossFit Gloves, Gloves for Pull ups, Weightlifting Gloves or even as Batting or Biking Gloves.  Try them out the next time you do a Battling Ropes Workout or a Kettlebell Workout!  Or next time your Personal Trainer tells you to jump on the rowing machine, wear your GymPaws® and see how much faster and harder you can go!
When you don't have to worry about your hands getting tired before your body, or your skin pinching as you lift, push or pull – you can actually focus on the workout at hand!
Workout your Body – not your Hands!™