I dropped in to see Mylee Yc the other day to see how she was doing.  Well actually I already knew she was doing phenomenally well - I just wanted to drop in on her photoshoot!  Of course her and boyfriend Alex Minsky were lookin sexy as ever -  and after they wrapped I was able to sit down with Mylee and chat.  I wanted to know more about what a "Mylee Yc workout" entailed, and what obstacles her fight with Breast Cancer places on her fitness routine.  Here's the interview:
You can get more info about Mylee Yc from my previous article "
Mylee Yc - Breast Cancer Warrior
"
Q:
 You look amazing!  So how are you feeling?  Is everything well?  Gimme an update.
A:
 Thanks! I am well, I'm just a bit sore after surgery.  This was the second phase of my post mastectomy reconstruction, I had my bilateral Modified Radical Mastectomy on October 25th (2012), so this actually something I have been looking forward too.  As far as the cancer goes, I completed Chemo on July 23rd so it is now just a waiting game.  I will be having my scans soon and if everything goes as I hope (fingers crossed) those scans will show no evidence of cancer.  I still have some treatment stuff that I am doing but it is nothing compared to chemo and radiation.
Q:
 So happy to hear that! Okay, so I know Fitness is a huge part of your life - has it always been?  You're a solider and fitness model - have you always been in such great shape? What's a Mylee Yc Workout?
A:
 Well I wasn't an overweight kid or anything, I was always pretty athletic.  My weakness though is my love of sweets... and well, I love food!  I love to eat!  It was during my pregnancy however that I put on a ton of weight and seemed to just keep puttin it on after she was born.  Your body changes after having a baby and you can't necessarily just assume the same lifestyle choices will give you the same results.  I'm kind of hard headed and sometimes it's tough for me to break old patterns.  To lose the baby weight I really buckled down and focused on my diet with portion control and moderation.  I had to learn that I could still love food and have my guilty pleasures - I just had to keep it in moderation.
Q:
 I don't know how to ask this eloquently, but how has your battle with Breast Cancer and the surgeries affected your workouts?  You don't look like you missed a single day at the gym!
A:
 Ha! That's fine!  I love talking about Fitness and Working Out!  I try to chat with and email my Facebook fans as often as I can.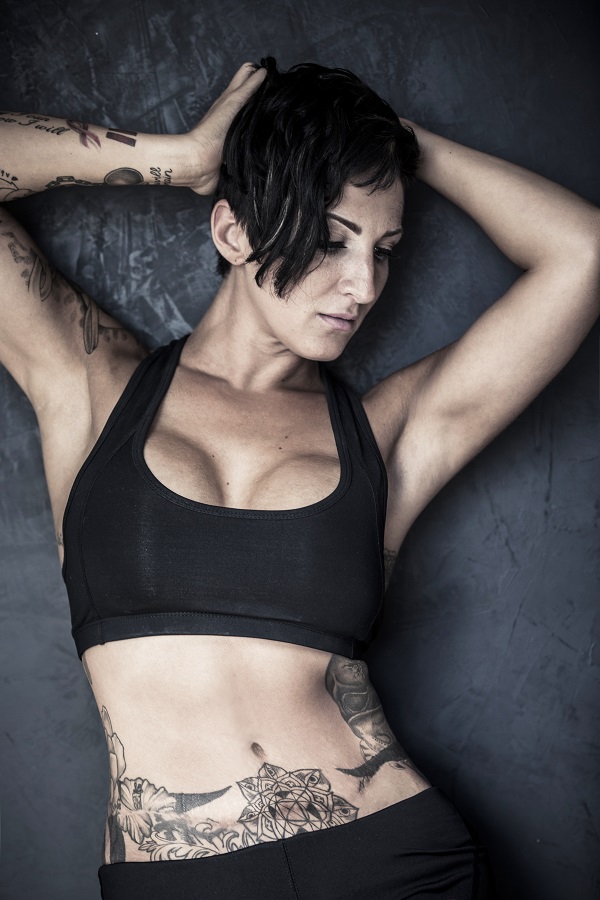 Obviously the biggest obstacle was any chest exercise. You know, women don't focus on chest workouts nearly as much as guys do, but it's a really important muscle group to train.  It helps with all your everyday activities from simple posture to wrapping your arms around something to pick it up - like kids!  So for awhile I definitely missed training chest at the gym. After my surgery I had Tissue Expanders implanted that are rock hard.  They're filled with Saline to stretch the skin for future reconstruction.  Learning how to workout with those two rocks on my chest was challenging to say the least!  Also Lymphedema is a result of all this stuff and that effected my arms.  Some of my favorite exercises like
Pull Ups
, Dips or even Bicep Curls were out of the question sometimes.  I really had to take a trial and error approach to my workouts and learn what exercises irritated the swelling etc.,  But I've always been a firm believer in listening to your body and responding to how it feels. I just had to learn to pay attention to details a little more than I used to.  Now I'm on the road back to my full workouts without much limitation, so that's pretty exciting!
Q:
 So what's on the horizon with the Mylee Yc Workout and Career and stuff?
A:
 Well as far as my Fitness goes, I'm on the road back to my full workouts without much limitation, so that's pretty exciting!  And as any mom knows, keeping up with my 8 year old daughter can be a workout in and of itself!  Career wise, I think I've found my calling with fitness!  Before the Breast Cancer I spend almost 12 years in the Military and planned on making that my lifelong career.  As I transition out of the Military over the next few months I'm planning on continuing to build my Fitness Career with the help of my fans and supporters.  I'll be getting my Personal Trainer Certification soon and hope to launch my official website around the first of the year.
Wanna learn more about Mylee Yc Workout?  Connect with her on Facebook!