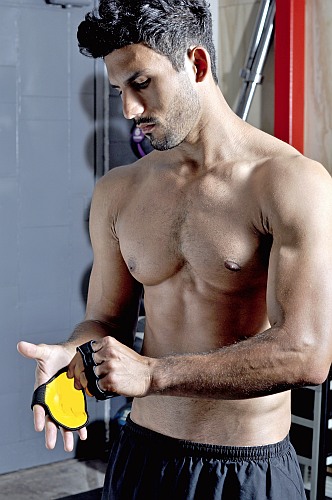 Say hello to your new gym gloves, and say goodbye to nasty calluses forever!
Your workout begins and ends with
GymPaws® Leather Weight Lifting Grips!
Are you new to working out?
If you've just begun your journey to a healthier more fit body, then you may not have ever tried using a workout glove or weightlifting grip before.  You'll soon learn that the more intense your workout becomes, the more your hands will take a beating!
Wearing a weight lifting grip like GymPaws® will boost your confidence in the gym and help you get an even more intense workout.  If you don't have to worry about hand fatigue or the weight slipping from your hands, you can concentrate on weight lifting and pumping out those last couple reps!
Are you a seasoned pro in the weight room? You'll appreciate how easy it is to use GymPaws® Weight Lifting Grips!  You don't need a big bulky weight lifting glove that restricts movement and makes your hands sweat more than your body!
GymPaws® fit discretely in the palm of your hands – right where you need a barrier between your skin and the cold hard metal weights!
The cool 4 Finger Loop Neoprene Backing keeps these grips in place while allowing for natural hand rotation and ease of movement. If you're a fan of bootcamp or CrossFit style workouts, then you know that you don't always have time in between exercises to take your gloves on and off.  With GymPaws® Weight Lifting Grips you don't have to!
Your workout's not done 'til the paws come off!
GymPaws The Gym Glove Alternative | Workout & Weightlifting Gloves
Average rating:
43 reviews
Jan 25, 2018
Crossfit Callouses Be Gone!
These have become a staple for my 2018 Crossfit workout to be sure. I like that they're thick enough to no bunch up but not as thick as regular gym gloves. My workout thanks you GymPaws! I'm happy to leave reviews anytime any place!
Sep 11, 2016
Really like these!
Pros:

- Doesn't feel bulky or intrusive, yet provides comfortable protection.

- Hands don't feel hot.

- Easy to slip on and off; however, I don't need to take them off to unscrew the cap from my bottle of water etc.

- I can leave my wedding band on (don't need to worry about damaging it or leaving it in the locker or at home).
Jul 31, 2016
Good Gloves
Fits well and very comfortable. Enables a good grip. Easy to put on and take off. They were a little slippery when used for pull-ups, but have become less so with more use. Would definitely buy these again.
Jul 11, 2016
Super for weight training
I am super happy with it. They are not too big or too small, adapt well to hold and provide a good grip.
Apr 8, 2016
Awesome Gloves!
Perfect when using my Concept 2 rowing machine. Love them A+A+A+A+
Feb 25, 2016
These lifting grips work!
I bought these because my hands are very callused after 45-50 minutes using the Vera-Climber every day.... It's pretty active on the palms and I've been looking for something UNOBTRUSIVE to help protect my hands. I love these grips -- they stay in place and they handle a lot of moisture... in short, they just work!
Jan 18, 2016
Favorite Lifting Grips
I just got my pair of gym paws and I was not disappointed. I've already used it a couple of times and it truly is an amazing product!
Jan 9, 2016
Best Gym GLoves
Just purchased these gym paws and am very pleased. I have tried many different gloves and these are one of my favorites. I loved that there is enough padding to prevent calluses, yet doesn't compromise my grip. They fit about the same as most gloves and got my normal size small. My only small complaint is that I wish the wrist wrap was a bit thicker to offer more support but other than that I think they are great!!
Dec 11, 2015
absolutely love these gloves!
Absolutely love these gloves. I have been working out for many years and have tried many gloves, padded squares and other items throughout the years. My problem is my hands get super hot and I usually have to take my gloves off between each set. Currently I am working with a trainer three days per week and I do not pay for down time so taking off and putting back on hand protection needs to happen quickly. These have been awesome. I have now used them for two complete weeks and wanted to do that before writing a review. They are perfect, practical and I do not feel any discomfort from the weights. I even use them for kettle bells and they are great. My only complaint, I can't find them in my gym bag if I toss them in, LOL. They are small and take up very little room so now I place them in a pocket inside my bag. I watch them very closely at the gym because I know someone will say, those look awesome, let me "borrow" them. Way to go GymPaws, great product.
Jul 4, 2015
Must Have for your Gym Bag
This weight lifting grips are great. Am a proud owner of short fat fingers, but the gympaws fit my fingers good. I love the way the gympaws feels in your hands, they feel so light you almost forget you have them on. One of the biggest plus is the fact that your hands don't sweat. This is a must have for your gym bag.
Page 1 of 5:
«
‹
1
2
3
4
5
›
»