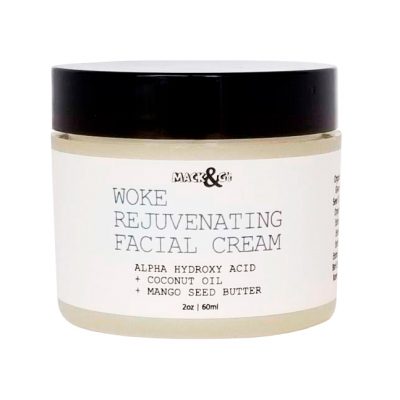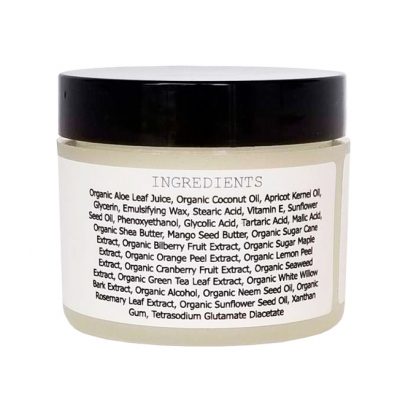 WOKE Rejuvenating Facial Cream with Alpha Hydroxy Acid – Coconut Oil – Mango
AHA (Alpha Hydroxy Acids) gently breaks down dead skin cells and gunk that can build up, revealing brighter younger looking skin.
If you're already in the daily habit of moisturizing to prevent fine lines and wrinkles, WOKE turns it up a notch.
Unlike harsh toners or peels, WOKE Rejuvenating Facial Cream has a gentle PH level. Enhanced with Mango Seed Butter and natural extracts.
Nutmeg, Ginger Root, Organic Orange Peel Extract and Meadowfoam Seed oil helps to soothe stressed skin unveiling a brilliant and radiant tone.
Vegan, Paraben Free, Phthalate Free, Gluten Free, Palm Free, Cruelty
Verified SecureTrust® Shopping – Checkout using Amazon, PayPal, or Credit Card. 
Description
Additional information
Description
WOKE Facial Cream is a heavenly treat for the skin. A soothing organic aloe base is highlighted with ultra moisturizing organic coconut oil, apricot oil, mango seed butter and organic shea butter.
About Mack&G's
In 1973 my parents (Mack & Gloria) embraced the hippy and bohemian cultural influences of the era, and began selling their handcrafted skincare, jewelry, and leather goods to friends and family. Soon Mack & G's products and potions were highly sought after at local craft fairs, flea markets, and co-ops. They made products with love which they believed, had the power to touch the soul.
Now, in a world in need of unconditional love and inspiration, Mack & G gave their blessings to bring some of their most beloved products to a new generation of discerning customers who appreciate authentic, effective, and useful products with soul.
Additional information
Weight
2 oz
Brand

Mack&G's

Size

2 OZ

Ingredients

Organic Aloe Leaf Juice, Organic Coconut Oil, Apricot Kernel Oil, Glycerin, Emulsifying Wax, Stearic Acid, Vitamin E, Sunflower Seed Oil, Phenoxyethanol, Glycolic Acid, Tartaric Acid, Malic Acid, Organic Shea Butter, Mango Seed Butter, Organic Sugar Cane Extract, Organic Bilberry Fruit Extract, Organic Sugar Maple Extract, Organic Orange Peel Extract, Organic Lemon Peel Extract, Organic Cranberry Fruit Extract, Organic Seaweed Extract, Organic Green Tea Leaf Extract, Organic White Willow Bark Extract, Organic Alcohol, Organic Neem Seed Oil, Organic Rosemary Leaf Extract, Organic Sunflower Seed Oil, Xanthan Gum, Tetrasodium Glutamate Diacetate

** If irritation occurs, discontinue use immediately.