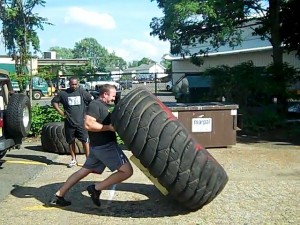 Personal Trainers New Jersey Looking for a personal trainer to convince you to get in shape?  Well keep looking!  The Team at Crossfit 732 and Absolute Fitness New Jersey isn't about
talking
they're about
doing
!  NASM and Crossfit Certified co-Owner Rob Esposito and his team of trainers in Central New Jersey are ready to whip you into the best shape of your life! Even their motto is inspiring, "Train your body - to strengthen your mind - to forge an unbreakable spirit." You won't find a room full of machines or racks upon racks of free weights at Absolute Fitness NJ.  What you will find is people busting their butts doing Tractor Tire Flips, Climbing Ropes, Swinging Kettlebells or maybe even pulling a Jeep across the parking lot!  If that sounds a bit daunting rest assured, their clientele includes fitness enthusiasts of every age and athletic ability.  These New Jersey Personal Trainers thrive on working with people with every level of fitness abilities.  From elite athletes using sport specific conditioning to reach new heights of performance, to stay at home mom's and weekend warriors looking to get back into shape outside of a boring unmotivating gym environment.
Crossfit Workout fans will be blown away at the trainers' repertoire of functional exercises in their Crossfit 732 classes.  Using Crossfit as their primary training method the team focuses their clients efforts around 10 fitness domains: Cardio-respiratory Endurance, Strength, Flexiblity, Power, Speed, Coordination, Agility, Balance, Accuracy and Stamina. Crossfit 732 considers itself a school, not a gym!  They want you to learn and make positive mind-body connections - not just go thru the motions.  They even go so far as to
guarantee
you'll see results! Co-owner Rob definitely has a no-holds-barred approach to fitness!  While he believes in pushing clients to their limits, he also looks to inspire clients to focus on their own self belief and abilities.  Robs philosophy can be summed up in his favorite quote, " Being realistic is the most commonly traveled road to mediocrity!"