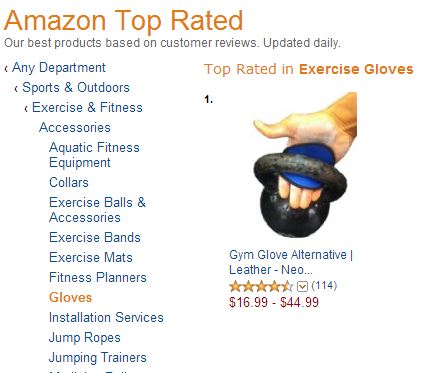 It's official!  GymPaws™ just hit number one as the Top Rated Workout Gloves on Amazon! If this is your first introduction to GymPaws™ we thought we'd take this opportunity to tell you why 
we
 think they're the top rated workout gloves and share some customer reviews and feedback with you as well. Here's the evolution of the Workout Glove as we see it…
History of Bodybuilding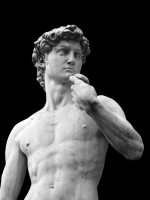 The history of bodybuilding goes back to the times of ancient Greece where the athletes of the time trained in gymnasiums.  The word gymnasium is derived from the Ancient Greek term "gymnos" which means "naked."  You guessed it, athletes used to train, workout, and compete in the buff.  This was practices partly to encourage appreciation of the male body and partly as a tribute to the Gods.  We're just guessing here, but if they preferred to train in their birthday suits, we doubt they were wearing workout gloves!  We all know that it was the Greeks who began the Olympic Games and well their focus on the male specimen had more to do with athleticism than esthetics, the phrase "the body of a Greek God" references this time period as well. Let's fast forward a bit to the 19
th
century and a Russian circus athlete named Eugen Sandow.  We probably should give him a shout of thanks as we celebrate our
top rated workout gloves on Amazon
status, because our man Eugen is widely accepted as the Father of Bodybuilding! Born in 1867 Eugen Sandow began performing "feats of strength" in strongman competitions and quickly rose to fame as an athletic superstar.  His acts of strength quickly became overshadowed by the public's infatuation with his bulging muscles versus this dog and pony show.  In response to this new found interest, Eugen started incorporating poses and pageantry into his performances.  Voila! The first bodybuilder had arrived! In 1901 it was Eugen himself that organized and promoted the world's first bodybuilding competition in London.  Before Eugen's death in 1925 he cemented his reputation as an accomplished author - coining the phrase "bodybuilder," as well as an inventor of fitness equipment and an ambassador of physical fitness.  To this day a bronze statue of Eugen Sandow is presented to the annual winner of the Mr. Olympia contest!  If Eugen were alive today, we'd like to think he'd rank GymPaws™ as the top rated
workout gloves
as well!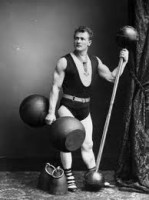 Who uses workout gloves?
Well it's not just limited to bodybuilders and meat heads in the gym!  GymPaws™ workout gloves have become a favorite of
crossfit training fans
, bootcamp fanatics, personal trainers, athletes and weekend warriors just looking to battle the bulge!
Why are GymPaws™ the Top Rated Workout Gloves?
If you haven't checked them out yet, you'll soon discover that the best workout glove… isn't even a glove!  This is what we think make's GymPaws™ so popular!  They fit right in the palm of your
hand and 4 finger loops on the back assure that they'll stay in place even thru the toughest workouts.  Unlike others on the market, GymPaws™ workout gloves have a genuine leather palm while the runner's up are simply made of flimsy fabric.  This slightly padded leather palm provides are great barrier between whatever you're grabbing and your hand.  This protection not only helps to avoid the build up of calluses, but it also increases your gripping ability. The rest of the GymPaws™ is constructed out of high tech neoprene which is the same material used for scuba-diving suits.   Neoprene has a little elasticity to it which allows a bit of a stretch on the finger loops for larger fingers, and the material is also unmatched at wicking away sweat!  Those of you who regularly wear workout gloves know that they tend to get sweaty and smelly because there is zero air circulation.  With GymPaws™ workout gloves you don't have a bulky glove to get too hot for comfort or to inhibit your movement. So there you have it!  The history of bodybuilding, the top rated workout glove on Amazon and far more information than you probably anticipated reading!  We're glad you did, and we're even happier that you chose GymPaws™ as the top rated workout glove on Amazon!  If you're not quite sold on them yet, feel free to browse some of our website
workout glove reviews
, and if you're ready to give GymPaws™ a try, just pick your favorite color… and get your workout on!