If It Doesn't Fit you Must Not Quit | Weight Lifting Gloves for Women
GymPaws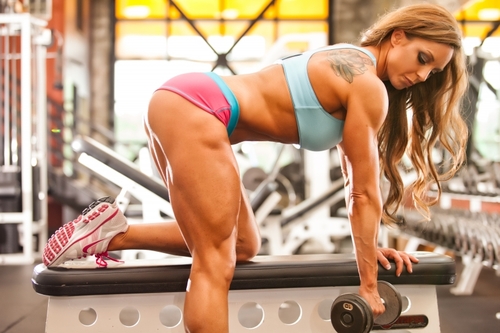 Listen up ladies… I know when it comes to weight lifting gloves for women you're not given a lot of great options.  You can either buy some gloves designed for men that happen to come in sizes for women, or you can buy some tacky women's weight lifting gloves that are bedazzled with jewels.  Not to mention most of these gloves that "target" the ladies are made from sub par materials.
Last time I checked, there are a LOT of women in the gym that can kick some serious a$$.  Maybe you do want a pair of some  or gloves in more feminine colors.  That's great!  Let's just make sure that they're also made for performance and not just for fashion!
Weight Lifting Gloves for Women
GymPaws® have become a favorite of the ladies almost as much as the men.  They're made from 100% Genuine Leather – so you're getting the protection you need – but they're not some big dorky gym glove!
Here's what you need to know when looking for womens gym gloves:
1. Check the material.
Lots of manufacturers try to knock off and knock out as many cheap glove variations as possible.  Leather is the most durable material you're going to find.  Rubbery pads will tear apart in no time (which is why you buy them in bulk) and soft fabric or micro-suede materials just don't hold up to grueling CrossFit or weight lifting workouts!
2. Try em on for size.
Lot's of manufactures actually don't allow for returns on gloves because they are considered apparel. GymPaws® offers a 100% Satisfaction Guarantee and Return Policy because we WANT you to try them!  If they just don't work for you, simply return them no questions asked.
3. Go for Performance.
GymPaws® Original Leather Lifting Grips were made to be USED!  Whether you're a bonefide GymRat or a weekend warrior, your gloves should last as long (if not longer) than you do!  Specifically designed to fit in the palm of your hands, these weight lifting gloves for women get rid of the extra bulky material that you just don't need.

The 4 Finger Loop Neoprene backing, not only provides a Hydrophobic surface (won't absorb moisture), but they FIT LIKE A GLOVE!
Maybe you've never even tried a gym glove.  Here's what you can use your GymPaws® Lifting Grips for:
Gloves for Pull Ups – Nothing's worse than that feeling that the skin's gonna rip right off your hands.  Try em for Knees to Elbows, Kipping Pull ups or traditional pullups.
Gloves for Crossfit Workouts – If you're a fan of this HIIT type of training then you probably sweat buckets! With traditional gloves, all that sweat runs down your arms and into your gloves.  No more worries there!
Weightlifting Gloves – Girls grunt and groan in the weight room just as well as the guys… altho they may be more polite about it.  Your Clean and Jerks, Deadlifts, Bench Presses or Biceps curls just might be improved if you have a better grip on things!