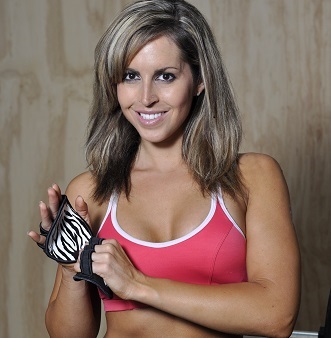 Zebra Leather Grips Weight Lifting by GymPaws®
You don't lift weights with the back of your hands.  You don't do pull ups or a kettlebell workout using the back of your hands.  Why do you need a full weight lifting glove for the back of your hand?  GymPaws® Leather Grips Weight Lifting give you protection right where you need it… in the palm of your hands!
Genuine Leather – GymPaws® Weightlifting Grips are made from real Leather.  Leather is one of the most durable materials and the best material for weightlifting grips!
Wicks away sweat. – The back of GymPaws® Weight Lifting Grips is made from Neoprene.  Neoprene is the same material used for scuba diving gear because it does not absorb water, and that means your grips won't absorb sweat!  Gym Paws have a slight padding to cushion the pressure from bodyweight or weight lifting exercises.
4 Finger Loops. – Some lesser quality weight lifting grips are designed with only two or three finger loops (if any).  This means that the grip will move around during your workout and won't stay on your hands.  GymPaws® Weight Lifting Grips have 4 Finger Loops which means they will stay in place even through the toughest workouts!
Washable. – If you workout hard, you probably sweat just as hard!  Your workout gloves or weight lifting grips come in contact with some of the dirtiest surfaces in the gym.  You can toss your GymPaws® weightlifting grips into the washing machine with your gym clothes, and then right into the dryer too!
Zebra Leather Grips Weight Lifting are only one of the cool colors available!  If you like Animal Print workout gear you can check out our Cheetah Paws as well!
Regardless of if you're doing a CrossFit Workout or killin it in the weight room pumping iron… Workout your Body, not your Hands!™
GYMPAWS The Gym Glove. Redesigned | Weightlifting & Workout Gloves
Average rating:
13 reviews
Apr 12, 2016
Love these gloves
I got this as a bday present for my husband, and this is his feedback :



It has been about 2 weeks (~ 6-8 gym sessions) since I am using Gym Paws. Previously I used gel type glove and could immediately feel a good difference when I started using Gym Paws. First day or 2 I found it different, may be because it is new and haven't tried anything like this before. The main thing I reckon it keeps your thumb free and nothing comes between your Index finger and thumb for better grip.



Positives that I think:



1. During bodyweight exercise like pull-ups, Chin-ups and Dips- I do feel very comfortable and gives a cushion support in callus prone areas in your palm.

2. When doing heavy barbell exercise or Pulley exercise, it gives the right protection. I felt the grip better than before when doing pulley extension for back workout

3. During heavy dumbbell exercise like Chest fly, farmer's walk, it helps better focusing on your workout rather than losing grip of your weights.

4. Easy to remove and to put back. I do sweat a lot especially when combining cardio/body weight exercises along with regular workouts. I find these gloves comfortable as it is easy to remove them or can still workout wearing them when doing exercises like burpees. Normally with Velcro type gloves, I used to remove them often for my hands to breathe a bit. I don't have such issues when using Gym paws.

5. These gloves/paws fit the pockets of my gym shorts/tracks.



The product quality is good and stitching looks solid so far - impressed!
Sep 22, 2015
Five Stars! Awesome Workout Gloves!
LOVE. LOVE. LOVE. my new gloves!!! These are GREAT!!! Will buy again!!
Dec 28, 2014
Great For Large Hands
I've tried many gloves in various price ranges and they all seem to fall apart after a short time.

With Gympaws this is not yet the case. I have very large hands and yet they fit very well.

For my part, I can only recommend it.
Dec 24, 2014
Really cool gym gloves / grips
Purchased this pair for my wife. She loves them. They have held up very well and is recommending them to everyone she sees. Highly recommend!!!
Aug 9, 2014
Love these things!
Love this porgrips-gym paws !!!! No more sweaty gloves !! I've used other gloves had my hands stinking!! Great product ,I high recommend this gloves to my buddy's at the gym !! And yes ,I'm a gym rat for the last ten years!! Use all kinds of gloves on the market.
Jul 17, 2014
Great Weight Lifting Gloves
These gloves are wonderful! I'm an avid lifter and have used many weightlifting gloves. These by far are the most comfortable and grip the weights so well. I love them!
May 23, 2014
Favorite Workout Gloves
These GymPaws are a workout lifesaver...Was beginning to think I couldn't do a second cycle of P90X due to painful hand calluses. Regular gloves offered no relief. Ordered these GymPaws and they work like a charm. No pain, heavier weights, more pull-ups. Simply put, they work!
May 12, 2014
Crossfit Gloves no more!
I love these. I do crossfit and my hands were getting torn up. Bought these and have had no problems with blisters since. They were a bit slick at first, but that has gone away. Highly recommend
Apr 11, 2014
Super For Weight Lifting
zwei wunderbare herren Handschuhe Fitness , sieht klasse aus fällt auch sehr gut aus und macht was her, bin sehr zufrieden.
Apr 7, 2014
Glad to have em for the ERG
Mine just arrived today.

Ordered them for rowing on an erg.

Like them do much better than some of the other things I have tried!

More flexible.

Padded without being bulky and hindering proper grip.

Not too hot... hands can still breathe.

Relatively comfortable. I believe, once I get used to them, all will be good.